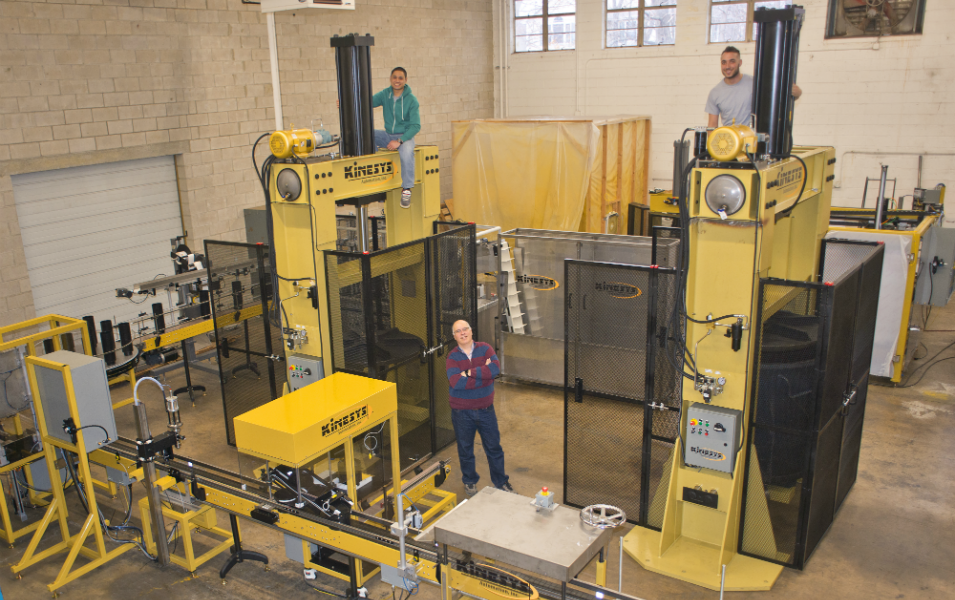 ABOUT OUR
ORIGINS
Incorporated in 2001, Kinesys Automation initiated its journey to capitalize on its founders dream to develop modular and flexible automation, and deliver value to its customers in the form of providing cost effective and innovative custom automation. With it's modest beginnings in a garage, the company began designing and building small projects, but quickly took on larger scope projects including delivering a linear, multi station vertical cartridge filler for silicones and urethanes and 2-part epoxies in cartridges constructed of plastic, fiber and metal – all on one platform. As a result of increased automation sales, Kinesys Automation moved its manufacturing operations to a facility in Kenilworth, NJ in September of 2008. The Kenilworth facility afforded the company a more accommodating layout and room to grow. In November of 2008, Kinesys Automation announced its acquisition of Mardem Manufacturing Company.
Founded in 1989, Mardem Manufacturing Company manufactured a wide range of highly cost effective, semi-automated and fully-automated filling equipment, as well as supporting equipment such as lid placing, lid closing, product infeed, and container Handling and material Handling systems. Continuing the proud tradition of providing highly modular automation and innovative engineering services, Kinesys Automation extended Mardem's reach and developed a line of packaging equipment based on its core competency of capabilities and has since provided comprehensive design, manufacturing and automation solutions to a diverse range of industries including packaging, biotechnology, pharmaceutical and dispensing.
Having experienced double-digit growth, in August of 2010 Kinesys Automation announced its move to its current location in Oakland, NJ. The Oakland facility has afforded Kinesys a more accommodating layout with an increased space of over 8,000 square feet. Conveniently located in the shadow of New York, Kinesys Automation is only a 30-minute ride from Newark airport in NJ, and a 45-minute ride from LaGuardia airport in NY, allowing out of town customers to conveniently plan their visits for system acceptance.
WHERE WE ARE
TODAY
Today, Kinesys Automation has developed a full line of modular automation servicing customers in the paints, coatings, chemicals, colorants, oils, detergents, and food ingredients industries, and accommodating paste products like viscous inks, adhesives, cements, epoxies, and spackle.
As an original equipment manufacturer, Kinesys Automation is more than just a supplier. Providing imagination, innovation, and personalized service, Kinesys Automation is a solutions provider that understands the customers' business and application. A company with the foresight and experience to see farther and help in moving forward; offering unique engineered solutions to complex automation challenges. By constantly applying new and creative solutions outside of traditional paths, Kinesys Automation realizes innovative designs. By emphasizing flexible modular assembly in the design phase, the resulting automation allows for customized assembly operations with interchangeable plug and play units.
INNOVATION
Kinesys Automation blends science with art to realize innovative engineered solutions customized for each customer's needs. Through the merging of innovation with invention and the purposeful blending of science with art, Kinesys Automation realizes imagined engineered solutions. We exploit science and technology to develop innovative manufacturing solutions.
MODULAR DESIGNS
Kinesys Automation specializes in the design and manufacture of production lines equipped with modular, self-contained, plug and play work cells. Isolating the individual processing operations to dedicated modular subsystems, results in a highly flexible manufacturing line. Employing advanced control techniques, these modular systems can be serviced from a singular control system thus minimizing controls redundancy and in effect reducing cost. Deploying a modular manufacturing line further enables the optional future expansion of additional modules as replacements, increased capacity or as a result of new business opportunities. With some planning and vision, manufacturers no longer have to commit their limited capital dollars to a fixed frame, all in one machine but can rather invest in an ever expanding system platform.
EXPERIENCED
At the heart of our company is our associates and suppliers; they're the backbone of our culture and the celebrants of our success. As an Original Equipment Manufacturer (OEM), Kinesys Automation is a user of automation components and hardware spanning a broad technology range. Working within a constantly expanding technical sphere, we challenge our individual selves to strive for new heights of excellence. Having partnered with premier service and technology providers, our associates embrace our technical challenges, as we have come to rely on the continued invaluable support and technical knowledgebase of our suppliers.
Have any questions or need a business consultation?