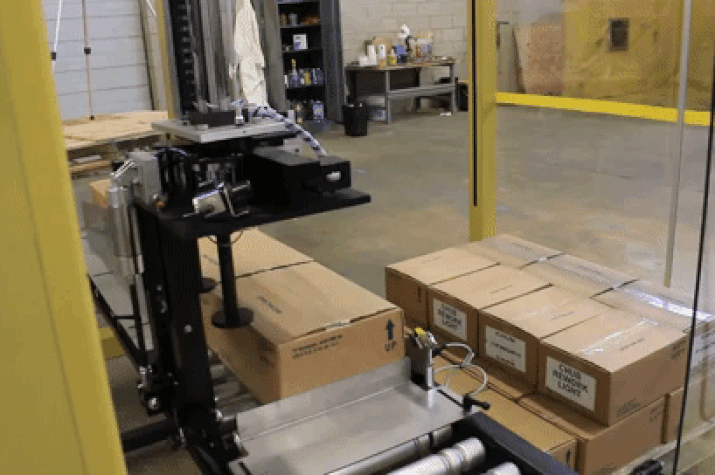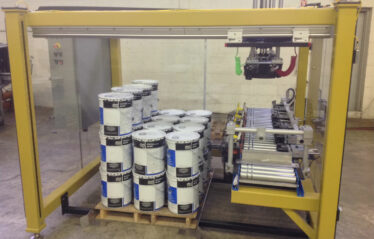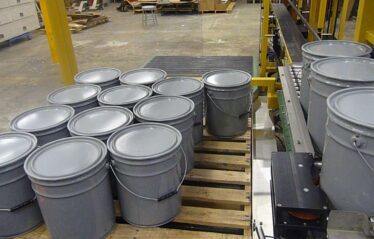 PRODUCT DESCRIPTION
Kinesys Automation's palletizers are gantry style (Cartesian) robotic systems that employ two high-resolution servo motors for X,Y location. They are the most compact and economical palletizing solution available in the marketplace today with a footprint as little as 7' x 7'. With an impressive lift load of up to 5,000 lbs and interchangeable pick up heads, a single palletizer is capable of stacking multiple types of containers.
High Throughput Palletizer models can reach speeds up to 30 containers per minute. Integrated pallet conveyors automatically remove completed pallets and introduce empty pallet from a pallet dispenser so there are no interruptions during production. All palletizers can be made Explosion-Proof to accommodate customer's classification rating.
Types of Containers
Pails
Jugs
Boxes
Cases
Bags
Kegs
Drums
1/4 Drums
Custom Containers…
FEATURES & ADVANTAGES
Floor space – Kinesys Automation's palletizers are built custom to each application, and as such are designed to occupy the smallest footprint possible. Given the overhead gantry style robotic controls, the floor space is primarily dictated by the pallet size, and the product in-feed conveyor; about as much space as would be occupied by a human performing the same palletizing task.
Ease of Use – Kinesys Automation's palletizers are designed with the user/operator in mind. Simplicity of use and operation are guiding principles used throughout the design and build process. Featuring Kinesys Automation's proprietary software, users can easily design custom pallet patterns in minutes without requiring programming personnel.
Reliability & Maintenance – Kinesys Automation was founded on the premise of delivering highly reliable equipment requiring no skilled intervention for up keep. With onboard troubleshooting capabilities, users can quickly test and identify all critical components. Manufactured with largely US made, off the shelf components, and design simplicity, the cost of ownership is significantly lower than comparable robotic systems.
Safety – Kinesys Automation's palletizers are manufactured with a steel framework that includes all necessary guarding and safety protections. Each system is shipped complete with all the necessary access doors, guarding panels and light curtains; no installation of additional guarding is required to surround and protect the work cell.